Family holidays are among the most memorable of our lives, with those summer breaks away from school seeming to last forever. Adventure and the chance to discover new and exciting destinations are a great experience to share with loved ones, and a break away from it all means the opportunity to escape the bustle of everyday life. And there can be few better areas to discover in the UK with the family than by heading to the 'Garden of England' when camping in Kent.
In Maidstone, the opportunity to discover the very best of the region is simple. Renowned as the Kent's 'Historic County Town', Maidstone provides history, culture, some of the best shopping in Kent, and a thriving nightlife. Plus, with attractions suitable for children of all ages – many of which offer free entry – there is plenty of opportunity to build lasting memories on an enjoyable camping break.
So, where can you stay when camping in Maidstone? We take a look at some of those campsites that will prove perfect for taking in the delights of the region, and which will ensure your next family break is truly memorable.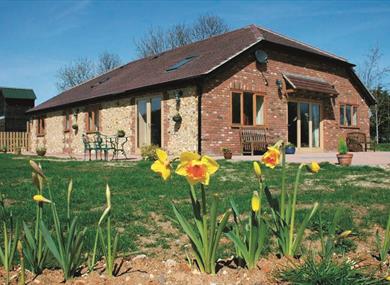 Coldblow Farm
Just half-a-mile from the Pilgrim's Way in the heart of the North Downs, Coldblow Farm providers travellers with a taste of traditional Kentish scenery complemented by peaceful seclusion. A host of accommodation options are available, with members of the Camping & Caravan Club able to enjoy use of a camping paddock suitable for tents and up to five caravans/motorhomes. Those searching for a little extra luxury, meanwhile, may prefer to book into one of the self-catering properties on-site; from small cottages to a large bunkhouse, there is something to suit everybody.
As expected from modern campsites, Coldblow Farm provides washing facilities for its guests, including two toilets, three showers, and a washing up room. In addition, electric hook-ups are available, water is supplied via tap, and laundry facilities can be arranged for an additional cost.
Tanner Farm Park
Peaceful and picturesque, Tanner Farm Park is an award-winning caravan and camping park perfectly positioned in the heart of Kent between the villages of Marden and Goudhurst. Booking a pitch at Tanner Farm Park presents the chance to experience life in a traditional Kentish setting, with its surroundings of woodland, apple orchards, and farmland offering plenty of space for family walks. Plus, with its proximity to nearby Maidstone and its array of attractions, the park's location makes it the ideal choice for those in search of discovery.
Tanner Farm Park is also impressively equipped with quality facilities. Included among the many amenities on site are shower blocks, laundry and dishwashing facilities, a shop, children's play area, and even WiFi (for an additional cost). Electrical hook-ups are provided for all pitches, while the park is fully animal friendly.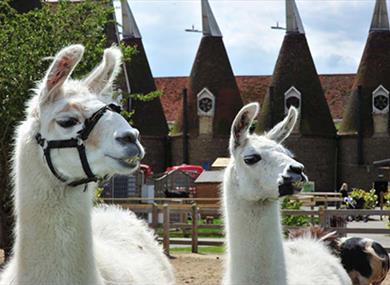 Hop Farm Family Park
As one of the region's most popular attractions, the Hop Farm attracts visitors from across the UK and beyond with a selection of enjoyable events. But did you also know that it also provides a family campsite? Set within more than 500 acres of open field and scenic woodland landscapes, and with iconic oast houses presenting a flavour of Kentish tradition, the park offers 300 pitches for campers.
With electric hook-ups and water points, toilets, showers, and washrooms, the facilities available on-site will ensure your visit is as well-equipped as can be. Plus, with the Family Park offering a selection of facilities such as a 4D cinema, Combat Laser Quest, and an outdoor adventure play area, there is plenty to keep children active throughout your getaway.
Knight's Glamping at Leeds Castle
When it comes to camping, the word luxury seldom accompanies it, with the opportunity to get closer to nature and away from life's comforts part of the appeal. With the advent of glamping (literally a portmanteau of glamour and camping!), however, the opportunity to experience camping with a touch of finesse is now available.
Knight's Glamping at Leeds Castle provides the opportunity to stay among the grounds of the renowned 'Loveliest Castle in the World', just a short distance from the plethora of facilities in Maidstone town centre. Standard facilities such as a shower and washing facilities are nearby, but it is the inclusion of a four-poster bed, wood-burning stove, WiFi, dressing table, luxury bedding, and a cast iron griddle over an open fire pit (not to mention no need to bring any camping equipment) that makes glamping at Leeds Castle such a truly unique experience.
Find out more about camping in Maidstone
For more details on camping in Maidstone, and to check prices for some of those locations identified above, visit the Visit Maidstone website today.